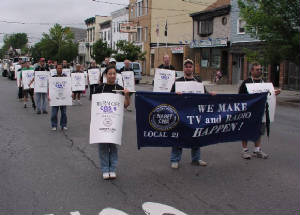 NABET-CWA Local 21 members participate in 2005 Albany Labor Parade
Less than 24 hours after it's contract with WRGB expired, the 44 members of NABET-CWA Local 21 are gaining the support of local political leaders.
On Saturday, Albany mayor Jerry Jennings tells Local 21 president Bill Lambdin that he will not spend one dime on political advertising at WRGB unless station management offers a fair contract to NABET members. Congressman Mike McNulty, and Schenectady mayor Brian Stratton also pledge support to Local 21, with Stratton vowing to speak on the union's behalf with station management.
Carrying signs saying "Turn Off CBS 6 / WRGB" about two dozen unionized WRGB employees marched Saturday in Albany's annual Labor Parade. The parade served as a kick-off to NABET-CWA's campaign to urge the public to boycott station programming. Local 21 members handed out leaflets and spoke to many of those in attendance about the situation at WRGB.

Even while acknowledging strong revenues and profits, WRGB management is demanding NABET-CWA members accept a 15% pay cut over 3 years. Despite generous and substantive counter-proposals from the union, management's position has changed little since the beginning of bargaining.
Members of NABET-CWA Local 21 are united in their quest for a fair contract, and vow to continue the "Turn Off CBS 6 / WRGB" campaign for as long as it takes to get one.