NABET members and family with supporters march across from Survivor auditions.
On Saturday, January 28, NABET-CWA members and their families held an informational rally in front of Huck Finn's Warehouse in Albany, the site of CBS 6 sponsored auditions for the Survivor TV series.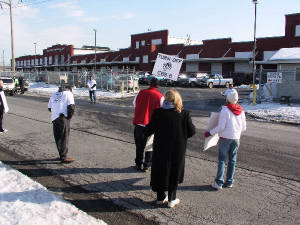 Members pass out leaflets at the Survivor auditions while others rally across the street.
They were joined by members of other unions, including NABET-CWA employees of WNYT-TV, PEF and the Bricklayers Union among others.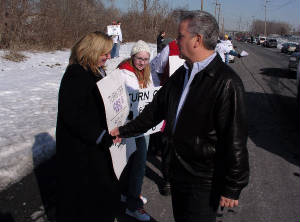 Albany Mayor Jennings meets with rally participants
Local politicians including Albany Mayor Gerald Jennings visited with rally participants.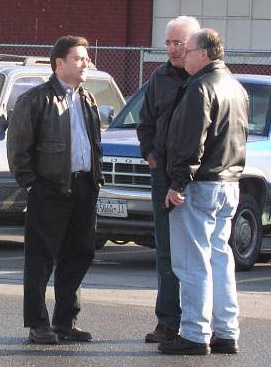 From left, CBS 6 GM Robert Furlong, Huck Finn's Pres Jeff Sperber, Albany Police Chief James Tuffey
NABET-CWA member passes out leaflets to auditioners
CBS 6 General Manager Robert Furlong and Huck Finn's Warehouse President Jeff Sperber attempt to have the members passing out leaflets to the Survivor audition participants removed from the parking lot entrances. Albany Police Chief James Tuffey intervened and the handbillers stayed.